The HOTLINE series
BECAUSE OF LISSA, the first of the HOTLINE series, four contemporary novels available only as e-books.

News of Lissa Mainzer's suicide shocks everyone. Lissa's friends Jenny, Kurt, Angie, and Lan are determined to keep others from feeling that desperate. They work to form a crisis hotline at their high school, taking the calls in shifts, trying to help other teens with their problems while the hotliners themselves must deal with the challenges in their own lives. But when a call comes from Monica, they face a crisis. They couldn't save Lissa, but what about Monica? And what about the hotline—can they save that as well?
THE PROBLEM WITH SIDNEY, #2 in the HOTLINE series, available only as an e-book

When a fourteen-year-old runaway starts calling the hotline, it's clear that some of the hotliners are getting much too involved. Jenny, Kurt, Angie and Lan set up the crisis hotline in school to help troubled kids, but in this second book in the Hotline series, the hotline itself is facing problems of its own. The runaway girl, who calls herself Sidney, says she's living in a local park with drug dealers, but when anyone suggests going to a shelter, she doesn't want to hear it. She keeps calling the hotline, and her stories are disturbing--but are they true? And how far can the hotline go to help her?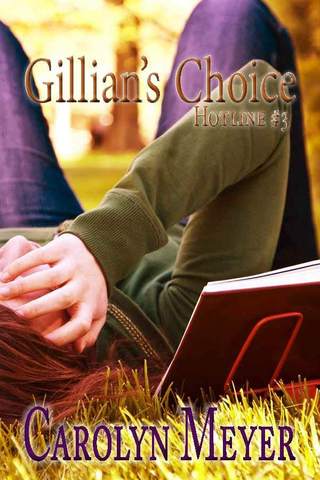 GILLIAN'S CHOICE, #3 in the HOTLINE series, available only as an e-book

Gillian, a quiet classmate, confides in Angie that she's pregnant and afraid—afraid to tell her parents or the baby's father, afraid of what lies ahead. But Angie, too, has problems. She hasn't been happy about what's been going on with her boyfriend, and she can't seem to make him understand her feelings. It's hard enough to sort out her own choices—so how can she help Gillian figure out what to do? And what can the hotline do for either of them?


THE TWO FACES OF ADAM - #4 in the Hotline series

Lan Nguyen wants to do the right thing. He has no doubts about where he stands on drugs. Drugs are bad, people who use them are fools, people who sell them are criminals. Then the high school hotline starts getting more and more drug-related calls, and Lan finds that it isn't quite that simple.

Drugs aren't Lan's only worry. His sister and nephew need a safe home, and Lan is determined to provide it any way he can. He's already working two jobs outside of his regular school hours. And then there's the viola given him by his friend Lissa, before she killed herself. Can he afford to keep it? And what about April; sometimes it seems she's ready to give up on him. Is he going to be able to keep it all together— and do the right thing?

(This review is posted on GOODREADS for the original version, pub. 1991)

Because of Lissa (Hotline, No 1)
by Caroline Meyer
5.0 of 5 stars 5.00 · rating details · 3 ratings
Lissa, 16, a seemingly happy but quiet teenager, commits suicide, leaving her closest friends bewildered and confused. Reflecting upon some of their past conversations with Lissa and feeling guilty for not having recognized her warnings, the teens decide to take action towards helping others in distress. They establish Ears, a telephone hotline at their high school, and make it a success in spite of the pessimism of the authorities. In a time span of six weeks, suspense builds as readers share common concerns with the protagonists. Whether Ears will survive and how the teens will manage their lives while maintaining the hotline sets the scene and provides fodder for this new series. Strong characterizations, realistic conversations, interesting subplots, and unresolved conflicts make the book difficult to put down. Meyer offers a candid, well-researched account concerning the causes and prevention of teen suicide without the didacticism and morbidity that often hamper books of this sort. YAs will welcome this book, as it offers a solution with sensitivity and understanding. --Linda Zoppa, Queens College Laboratory Schools
Copyright 1991 Reed Business Information, Inc.
(From School Library Journal)


THE STORY BEHIND THE SERIES:
Over 20 years ago I was asked to develop a 4-book series about a high school hotline. The premise was that a popular teenager had committed suicide, and four of her friends decide to set up a peer counseling hotline in their high school. Each book would feature one of the four friends, but each book would also have a through-story about the other three. And each book would deal with a different type of problem confronting the hotline.

While I was figuring out the characters and the interwoven plotlines, I enrolled in a course on suicide prevention counseling; at the end of the course, I volunteered for six weeks on a hotline in my community. I also got acquainted with students in a local high school that has a broad mix of backgrounds and languages.

All of this was a long time ago, and I don't remember much about the research or the writing and editing process, but in 1990 the first novel, "Because of Lissa," was published, followed by #2, "The Problem with Sidney," and a year later "#3, "Gillian's Choice" and #4, "The Two Faces of Adam."

And then I went on to write a number of other books, many of them historical fiction, and forgot about Hotline.

Several months ago I got the idea of bringing some of my early novels back to life as e-books. The four Hotline books seemed ideal. I reread them and felt that the characters are as fully alive today as they were more than 20 years ago, and the issues are just as compelling. But it's a different world today, and if I could name the single biggest difference in the teens of today and the teens in talked with in 1990, it's the cellphone.

There are other differences, too, and to bring the books up to date, I have rewritten them all, from beginning to end. They have beautiful new covers. (The original cover is pictured to the left--you can just make out that obsolete object, a telephone.)