BEAUTY'S DAUGHTER: The Story of Hermione and Helen of Troy
What's it like to be the daughter of the most beautiful woman in the world?

Hermione knows....Her mother is Helen of Troy, the famed beauty of Greek myth. Helen is not only beautiful but impulsive, and when she falls in love with charming Prince Paris, she runs off with him to Troy, abandoning her distraught daughter. Determined to reclaim their enchanting queen, the Greek army sails for Troy. Hermione stows away in one of the thousand ships in the fleet and witnesses the start of the legendary Trojan War.

In the rough Greek encampment outside the walls of Troy, Hermione's life is far from that of a pampered princess. She desperately wishes for the gods to intervene and end the brutal war--and to bring her love. Will she end up with the handsome Orestes, or with the formidable Pyrrhus, son of Achilles? And will she ever forgive her mother for bringing such chaos to her life and the lives of so many others?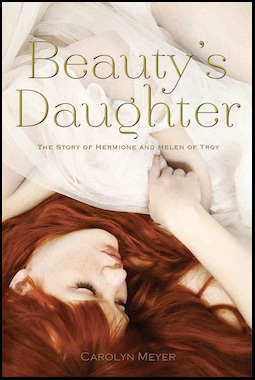 Here's the review from SCHOOL LIBRARY JOURNEY:
Narrated by Hermione, daughter of Helen of Troy and King Menelaus of Sparta, this story chronicles several years in her life, starting when she was 11. The novel transpires from the time Helen leaves for Troy with Paris, through the Trojan War, and ends when Hermione marries Orestes. Hermione grows in strength and deals with atrocities to women such as arranged marriages to brutes or concubines being beaten. She also deals with the fact that she has an absent mother who is known as the most beautiful woman in the world, and that she looks nothing like her. Though not told in verse, the story is reminiscent of the style of the well-known epic poems, and many tales of Greek mythology are interwoven throughout. This title would make a great pairing for students studying Greek mythology or reading the Iliad or Odyssey and will appeal particularly to students interested in ancient history.–Adrienne L. Strock, Chicago Public Library

From a 16-year-old reviewer, Olivia: "This is a story of deception, love, lust, and death. Filled with imperfect gods and shady characters, it was a well written novel and an interesting plot."

And this from BooksForKidsBlog: "Meyer, the queen of queen fiction, has a talent for telling a compelling personal love story, while taking the reader deeply into early Hellenic history in which the story is set."

Just call me Queen Carolyn.....