THE WILD QUEEN: The Days and Nights of Mary, Queen of Scots
"...a fascinating, headstrong, multidimensional woman..." [School Library Journal]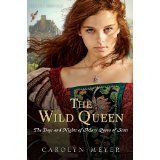 Here's how the story begins:

AT THE CENTER OF DISASTROUS EVENTS
The midnight hour being well past, the day is now Wednesday, the eighth of February, 1587. The sound of hammering in the great hall of Fotheringhay Castle has not ceased. In a few hours the most important day of my life will dawn. I have written letters to those I love. My red petticoats and my black gown lie ready. My women, dressed in black, sit with me, and I ask one of them to read aloud the story of the good thief crucified beside our Lord.

When she has finished, the women are weeping. "It is true that the thief was a great sinner," I remind them, "but not so great as I have been."

I lie down and close my eyes, though I have no wish to sleep. Outside the door of my dreary chambers, the guards tramp back and forth, back and forth, stationed there lest I try to escape. They need not worry. My body remains here, but my thoughts have already flown away, back to my earliest beginnings and all that has followed.


Chapter 1. Farewell, Scotland

I was the cause of my father's death....