My Life
I was born in Lewistown, a small town in central Pennsylvania.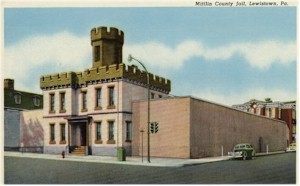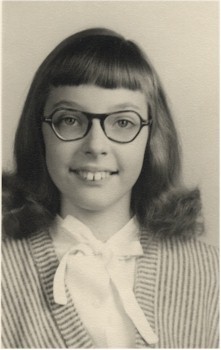 Here I am in middle school, before braces.

Some people think it's a mistake to put this picture on my website.

What's your opinion? Contact me and vote:
Keep the picture--she's cute!
Lose the nerd!
I was an only child.

What? An only child? I'll bet you were a spoiled brat!
I was NOT a spoiled brat. My parents wouldn't have put up with that. Actually I was very nice. Smart, too.

Definitely stuck on yourself.
Not really. Just shy. Definitely shy.



Here's my mother, Sara, when she was about sixteen.

And my dad, Vic, when he was in his early 20's.

She was a pianist and he was an amateur actor.
What about you? Any early signs of talent?

I was not a musician, but here I am in my senior class play, in the role of Daisy Mae.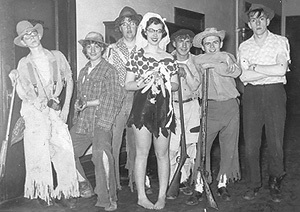 How did you get started writing?

Well, I loved to read. And then I discovered that I loved to write, especially stories. I started my first novel when I was 8 years old, HUMPY THE CATERPILLAR AND GLADYS THE SNAIL: A TRUE LIFE ROMANCE. (I finished only 3 chapters.) Then I met up with Miss Frankenberry the Grammar Dragon, who taught English at my high school. She was fierce about grammar, ferocious about spelling, fiendish about punctuation.
Bet you were glad to get rid of HER.

Yes, but she did make us get it right. Then I found that college was full of teachers like Miss Frankenberry. After graduation from Bucknell University in 1957 I headed to New York to seek my fortune. Instead I got married, had children, and moved to the suburbs. That's when I really started to write -- and discovered that the really good editors are an awful lot like Miss Frankenberry.

What was your first published book?
A sewing book for little girls (because I had 3 little boys, none interested in sewing) called MISS PATCH'S LEARN-TO-SEW BOOK. Years passed. I kept writing. The total is now more than 60 books.


Where do you get your ideas?
From things I've read, places I've visited, people I've met. Ideas are everywhere -- the trick is to recognize them when I see them.

Were you good at sports when you were a kid?
I was a terrible athlete -- couldn't pitch, hit, or catch a ball. Somewhere I got the idea that I couldn't graduate from high school unless I could stand on my head. That turned out to be a myth; I managed to graduate at the head of my class. Then in college I had to take physical education and ruined my beautiful grade-point average. Since then I've tried skiing, ice skating, horseback riding, and yoga. All disasters. Now I walk 3 miles every day and go to the gym 3 times a week; sometimes I even work out while I'm there.

Do you have any pets?
No. I want somebody to clean up after ME.

What about a husband? Kids?
I was married to E. A. "Tony" Mares, college professor, historian, poet, essayist, who died in January 2015. Three sons: Alan (married to Amanda; children Erin and Joe), John (daughter, Sophie), and Chris (currently without a dog or a wife). Tony's daughter, Vered, married Yovani last year in Cuba.

Seems as though you like to travel.
I do. I've traveled lots of places: Alaska, South America, South Africa, Japan, all over Europe, Egypt, and Bahrain, an island in the Persian Gulf. In 2016 I made two trips to Cuba and stayed 7 weeks. Around the US, too, of course.

What else do you like to do?
I love theater, and I've been taking acting classes in improv comedy--way outside my comfort zone and so much fun!

Where do you live?
Several years ago we moved to a loft in Downtown Albuquerque, New Mexico, with fantastic views of the mountains, the sky, and the city and near everything I enjoy--movies, theater, restaurants, library, and great walks.

Bookcase on the left is filled with books I've written, several of them translated into other languages that I can't read. I took this picture standing in the kitchen area. I like cooking almost as much as I like to write, and--like writing--when it doesn't turn out the way I want, I can just toss it.

My office is a very efficient space off the bedroom with its own balcony.